Pediatric Chiropractic at
Morman Family Chiropractic
Helping Your Child Thrive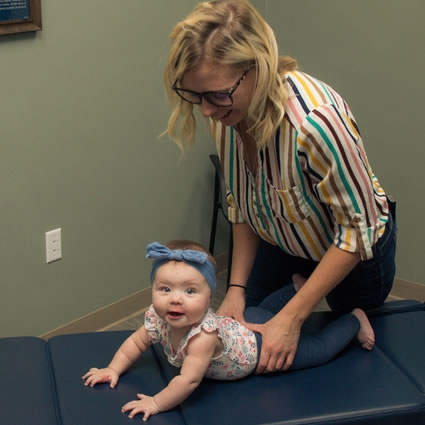 Stress can come from four different categories: physical, chemical, emotional, and technological. Everyone has a threshold in which we can handle these stressors, but eventually our load becomes too much and we surpass that threshold. These stressors don't start when we are 50 or 25 or even 12. When we think of physical stressors for kids, we usually think about the bumps, falls, endless crashes, and even sport stressors.
But they start much earlier. Pregnancy and birth are one of the very first stressors that our body goes through.
Let's be honest, life is crazy with all the commitments, sports, activities, therapies, etc. Our kiddos are living in that fast paced rhythm, which can roll over into school, bedtime, and routines. Stressors are coming at us from every direction, ultimately making it harder for our brain and body to adapt, which puts our nervous system on overdrive and the gas pedal gets stuck on and there's no brakes.
Pediatric chiropractic is a safe, gentle and efficient way of restoring health to children through precise nervous system analysis and adjustment. Less-than-optimal nervous system function is frequently the cause of many of the health issues that we see kids struggling with today. Some dysfunctions, ranging from ADHD and autism to ear infections and seizures, are now at almost epidemic levels.
NEW PATIENTS »

Choosing Chiropractic Care
Parents bring their kiddos to our fun and family friendly office for a variety of reasons, including, but not limited to:
ADHD
Allergies
Anxiety
Asthma
Bed-wetting
Birth trauma
Colic
Constipation
Coordination and balance
Delayed motor milestones
Developmental delays
Picky Eaters
Sleep Disturbances
Learning disabilities
Digestive issues
Ear infections
Growing pains
Infertility preconception
Latching and nursing difficulties
Lowered immunity
Sensory processing
Sports performance
Toe walking
Apraxia
Speech delays
Plagiocephaly
Meltdowns
Help Your Child get Off to a Healthy Start
Book an appointment today and let's get your child back on track. We'll help them grow, thrive, and live their best lives. Contact us today.
---
Pediatric Chiropractic Ottawa, Leipsic, Glandorf, Putnam County OH | (419) 523-2220